Our Experience
About The PodWheels Network
The development of the PodWheels Network can be traced back to the career path taken by Greg Thompson, the founder and principal of the PodWheels Network.
In 1998, Greg joined the public relations team of a large truckload carrier after more than a decade of working in the media as a producer, reporter and feature writer. Greg's initial primary responsibility with the truckload carrier was in the area of internal communications – creating content that would highlight and engage the carrier's driving community that was approximately 90 percent of its employee base.
Having served as a beat writer for a mid-sized metro daily newspaper and a producer of numerous documentary-style radio programs, Greg viewed his new role with the truckload carrier as an opportunity to spend time with the company drivers and owner-operators in the fleet, talking with them and learning about the trucking industry from the perspective of professional drivers.
Over the next 14 years during his time with the truckload carrier, Greg's almost daily conversations with company drivers and owner-operators provided an invaluable education on the challenges professional drivers face while earning a living in a position that is both a job and a lifestyle. During his tenure at the truckload carrier, Greg interviewed hundreds of company drivers and owner-operators for written feature stories, video segments and audio interviews. For most of the professional drivers speaking with him, the Q&As with Greg stood as the first time that they had ever participated in a media-style interview.
If you would like to learn more about Greg Thompson and his individual experience, please click here.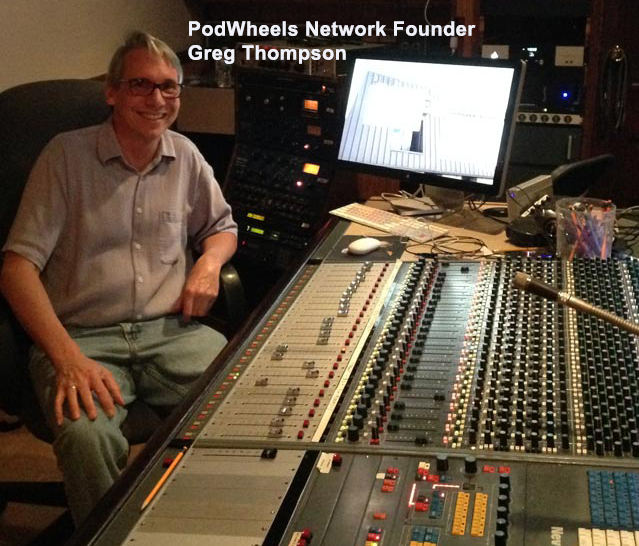 Over the years, Greg and the members of the PodWheels Network have found that a well-produced and tightly edited audio interview is a highly effective form of communication because listeners get to hear the featured interview participants in their own words. Quite often, the observations made by professional drivers during a podcast interview speak to the experience shared by other company drivers and owner-operators who are listening to the content.
At PodWheels, our experienced interviewers understand how to make connections with our guests and resident subject-matter experts. We take the time to get to know the people we are speaking with, and we have genuine interest in what they are sharing with us. By working with trucking fleets on an individual basis, we take the time to get to know your company and your people. Our podcasts are built to complement and to augment the existing communications platforms and initiatives that you have in place. Our fleet-specific podcasts are unique to that company. Our focus is to be a plug-and-play solution for the fleets – one that is willing and able to adapt to your specific needs.
The work that the PodWheels Network does for fleets is not a one-size-fits-all solution. We are not in the business of recycling segments or ideas. Our fleet program is based on our experience in the trucking industry. The content that we produce for fleets is unique to your company, and it is designed to address the issues that have value for your driving community and your company.
The PodWheels Network draws from the collective experience of our team in our continuing efforts to produce interesting, entertaining and informative podcasts that work diligently to speak to the challenges and needs of professional drivers. Our team features experienced producers and professional communicators who understand how to build a platform that can connect with an audience.
If you have questions or if you would like to learn more about the PodWheels Network, please emailinfo@podwheelsnetwork.com