The Case For Using Podcasts In Trucking
Podcasts have the power to effectively reach target audiences with content that is specifically tailored to speak to their needs. A well-produced podcast provides an attention-holding passive media platform which can help an organization achieve both its internal and external communication goals. When we consider the day in the life of most professional drivers, podcasts are a perfect fit while drivers are on the road or during their down time between trips. A good podcast that works to inform, educate, enlighten and entertain its audience on some level with each production can make a positive impact for any company or organization.
Over the past decade, podcasting has become one of the most popular communication platforms in the country, with the overall number of podcast listeners growing by more than 150 percent since 2014. The audience growth is not surprising when you consider expanded use of podcasts with more than 300,000 podcasts in the iTunes store alone, covering a wide range of topics and interests. Here's a look at some of the eye-opening trends with podcasting:
44% of the U.S. population has listened to a podcast.
26% (73 million) listen to podcasts at least every month.
17% listen to podcasts weekly.
16 million in U.S. are avid listeners.
55% of podcast listeners are male.
22% percent of podcast audiences listen from their vehicles.
65% of the overall podcast audience has been listening 3 years or less.
Beyond the obvious growth, these national numbers tell us that podcasts have become an accepted media platform in the U.S. and across the world. Industry-specific podcasts, and even company-specific productions, are beginning to gain traction.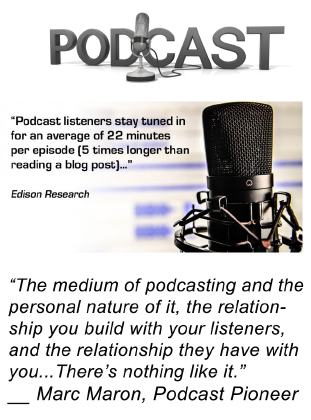 When we look at podcast applications within the trucking industry, a well-developed podcast production offers the ability to target audiences with non-visual media content tailored to speak specifically to their needs and is perfectly suited for schedules of OTR drivers. Podcasts are typically much cheaper to produce than videos, and they are far less time-consuming for all involved. For carriers with limited time and resources to dedicate to internal communications, a well-planned podcast Q&A requires a highly limited amount of time and effort from participating fleets while delivering a new form of driver engagement.
The PodWheels Network Team has built a track record of success in working with fleets, tailoring podcast content that speaks to specific needs and goals. We understand how to connect and build an audience. Our experience with developing audio content for truck fleets pre-dates the emergence of podcasting as a communications platform. For more than 10 years, PodWheels Network founder and principal Greg Thompson managed a toll-free message line for a large fleet, featuring interviews and news. At the height of its operation, the toll-free message line received over 100,000 calls per year from within a fleet of just over 6,000 drivers. Possibly even more impressive than the call totals was the fact that the message line's call completion rate stayed at 96 percent for the entire run of the program.
While the growth of internet-based platforms and wireless technology has made toll-free message lines obsolete, the concepts and principles behind developing highly engaging audio content are more relevant than ever in the trucking industry. At PodWheels, we have proven that a strong podcast program can assist fleets in effectively communicating and building lasting relationships with their driving communities.
If you have questions or if you would like to learn more about the PodWheels Network, please emailinfo@podwheelsnetwork.com